Big Ideas,
Creative People,
New Technology.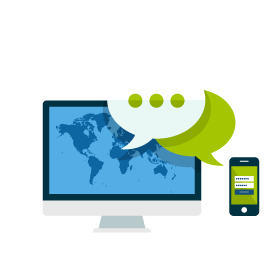 Our agency does everything to help your organisation discover new digital opportunities, use them and profit from them, supported by our know-how in web design and graphic design!
SARTHAQ TECHNOLOGY is a collaboration of experienced, skilled, creative and innovative digital expert's team. We can take your brand to the next Level.
We specialize in web development, designing & maintenance, web programming, CMS (Content Management Systems), e-commerce solutions,  Android/Ios Application, Graphic Designing, Digital Marketing, Social Media Promotions, Printing Solution, Digital Strategy, User Experience, Advertising and offers complete range of web based services and solutions. 
As a young, Web Design Company, we are passionate about our work – a fact that is well reflected in our portfolio & testimonials we have received from our clients. We deliver competitively priced websites, designs that stand out from the crowd and give you the competitive edge you require to accelerate your business. As an established custom Web design and development company, we specifically tailor our web-based solutions according to the exact requirements and unique preferences of every client.
Our Vision
We works with the vision of providing Quality, innovative and cost-efficient services to our clients and we also make sure that our services works for you. Our company was founded with a view of becoming a leader in development & design arena. We strive to develop our clients businesses by enhancing visibility, productivity and growth.
Our Commitment
Your clients do not simply want to receive information about your products and services; they want to experience what your brand will do for them and understand what your company's message is. We are committed to helping you do just that, designing unique and memorable sites that will help your organization grow.
Our Team
The people working behind Sarthaq Technology not only know web or software development, but share the common intense passion for technology. In fact, our core team consists of young & seasoned professionals who are pioneers in the industry. You can expect our developers to review every aspect of web development in order to ensure all possible challenges are met effectively. Our team members work in a group rather than individually. We have a good combination of app developers, web developers, web designers, programmers, graphic designers, Social media promoters and Digital Marketers.
Our team knows that our clients needs our time and attention therefore we provide every single client with a high Quality service. We believe in producing work we can truly be proud of.
Together with our dedicated team of professionals we are progressively positioning ourselves at the helm of the worldwide IT community.
O U R    M I S S I O N
To be the most respected Web Development & Internet marketing agency. We aim to provide top-notch products that are simple in use.
Milestones
Some remarkable events our agency went through.
June, 2014
The company's first website was released.
December, 2014
First E-commerce Portal for Client was Launched.
March, 2015
Launched our First City Portal
May, 2018
We Started our First Online Political Campaign for MLA Candidate.